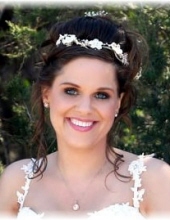 Obituary for Anna Eischeid
Funeral services for Anna Eischeid, age 40, who passed away July 26, 2019, will be held Saturday, August 3, 2019 at 11 AM at the Bedford United Christian Presbyterian Church. Visitation will be held at the Bedford United Christian Presbyterian Church Friday, August 2, 2019 from 3 to 7 PM with the family greeting friends from 5 to 7 PM. Memorials may be directed to the family for a memorial/s to be established. Cummings Family Funeral Home is entrusted with the arrangements for Mrs. Eischeid. Memories and condolences may be shared with the family at www.cummingsfamilyfuneralhome.com under Obituaries.

Anna Michelle (Baxter) Eischeid, daughter of John Baxter and Ellynan (Greedy) Finnell, was born January 17th, 1979 at Hamburg Hospital, Hamburg, IA. She grew up in Shenandoah, IA and graduated from Shenandoah High School with the Class of 1997.

Growing up, Anna loved dancing, baking, and her cats. Anna was united in marriage with Scott Eischeid on April 9th, 2016 in an outdoor ceremony, surrounded by family and friends at the Sugar Clay Winery in Thurman, Iowa. Together they made a home south of Bedford on the family farm. They enjoyed the rural setting with their two children, Ella and Thomas. Anna loved to go check the cows and crops together with Scott and the kids. She even enjoyed spraying and cutting thistles in the pasture and CRP. It gave her an excuse to pick wildflowers.

Whenever there was field work, she would pack an all day lunch/snack bag for Scott and the kids when they were in the tractor. This Spring, she was adamant that Scott use the notebooks she bought instead of his typical planting books. She loved the fact that her and the kids were farming like her Grandfather Greedy had.

In addition to being a dedicated farm wife and mother, she enjoyed gardening, flowers, taking pictures, baking, crafts, and Pinterest; to get ideas to make the kids Halloween costumes and homemade Valentine's cards. Anna enjoyed golfing with her new, left handed golf clubs that Scott bought her for Christmas. On their first date, Scott took Anna bowling, and they went bowling a lot on their date nights after that. She especially enjoyed karaoke. She had a beautiful voice whenever she got the chance to sing.

Anna was a wonderful mother and wife. Her husband and children meant the world to her. She loved deeply and was deeply loved. She loved reading books to the kids and snuggling. She saw to it that Ella's hair was always fixed 'just right' before school and special events. She loved shopping for clothes and dressing Ella and Thomas in the mornings; which sometimes made her and the kids late, because they had to look perfect! She was spontaneous and loved to be surprised by Scott taking her on vacations, which included trips on the AMTRAK, hockey games and Weston, Missouri.

Anna worked in Shenandoah as a CNA at Gardenview Care Center and Hansen Jewelry before being married. She had a kind and generous heart and always greeted you with a bright, genuine smile and hug. She never knew a stranger. Later she worked at Dessert First in Bedford. She loved waiting on customers and making them feel special, because they were special to her.

Anna is preceded in death by her grandfather Donald Lee Baxter and grandmother Romona June Baxter, whom she shared a loving and unique bond with. She is also preceded in death by her grandparents Robert and Mary Ellyn Greedy of Sidney, IA.

She is survived by her husband, Scott, children Ella Elizabeth, 9 years and Thomas Xavier, 5 years; her parents, John Baxter of Shenandoah, IA and Ellynan and Brian Finnell of Riverton, IA; brothers Robert (Allie, Fiancé) Baxter of Grimes, IA and Lucas Finnell of Osage Beach, MO; her parents-in-law Loren and Donna Eischeid of Bedford, IA and sister-in-laws Michelle (Anvar) of London, UK and Alexandra of Granger, IA. Anna is also survived by step-mother Julie (Baxter) Boswell of Pawnee City, NE; step-brother Scott (Sena) Gilbert of Fairbanks, AK, step-sister Dr. Madison Gilbert of Kansas City, MO, and step-sister Camron (Brandon) Roloff of Atchison, KS; along with many more
family members and friends.



Anna will be greatly missed by all who loved her.
May God grant comfort and peace to those who mourn her passing.
Previous Events
Visitation
United Christian Presbyterian Church
Bedford, IA 50833
With family greeting friends from 5-7 PM.
Funeral Service
United Christian Presbyterian Church
Bedford, IA 50833
Interment
Fairview Cemetery
Bedford, IA 50833
Cemetery Details
Location
Fairview Cemetery
Bedford, IA 50833
Memorial Contribution
In lieu of flowers the family requests memorials be directed to:
the family for a memorial/s to be determined.