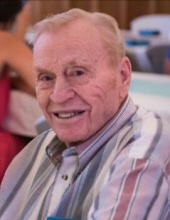 Obituary for Bryan C. Cross
Funeral Services for Bryan Calvin Cross, who passed away June 24, 2018, will be held Thursday, June 28, 2018, at 10:30 AM at the Bedford United Christian Presbyterian Church. Visitation will be held Wednesday, June 27, 2018 at The Cummings Family Funeral Home from 3 to7 PM with family greeting friends from 5 to 7 PM. Memorials may be directed toward the family for a memorial/s to be determined. Cummings Family Funeral Home was entrusted with the arrangements for Mr. Cross. Memories and condolences may be shared with the family at cummingsfamilyfuneralhome.com under Obituaries.

Bryan Calvin Cross was born January 3, 1927 to Thomas John Cross and Mabel (Horton) Cross in rural Taylor County on a farm east of Bedford. During his early years of school he had to walk three miles each day. Later his family moved to town where he walked to a farm west of town to milk cows morning and night. Following his junior year of high school he enlisted in the US Army Air Force during World War II. At the end of the war he was discharged in the fall of 1946, returning to Bedford and graduating with the class of 1947 as salutatorian and with perfect attendance.

After high school he attended Simpson College, then returned to Bedford and drove an oil truck for Ralph Thompson for many years. He was also co-owner of the Owen's – Cross Hatchery. In the late 50s he purchased his first farm and in 1962 moved to the home farm west of Bedford. They lived there until 2014, when they retired and moved to town. He was an active member of the United Christian Presbyterian Church for most of his life.

He was united in marriage to his best friend, Deloris Rowe from Bedford on June 14, 1959. To this union four children were born: Kyle Cross (Laura) of Red Oak, Janna Karwal (Don) of Elliott, Jill Cooper (Dennis) of Villisca, and Jenifer Cross (Tom Bartels) of Eaton Colorado. He has five grandchildren: Kyra Blatchford, Daniel Cross, Thane Walston, Christian Bartels, and Riley Bartels and one great granddaughter: Haylee Blatchford, along with a host of step grandchildren and great-grandchildren.

He was preceded in death by his parents and 10 siblings and their spouses: Clifford, Thomas, Helen (Charles Owens), Bill (Darlene), Alice (Charles Flint), Fred, Bette (Ed Squires), Peggy (Stuart Allen), Frances (Richard Farr), and Judy (Basil Lucas). He is survived by his wife of 59 years, four children and their families along with numerous nieces and nephews that were very special to him.

He was always a horseman and a member of the Sherriff's posse in his younger years and a member of the local saddle club for decades. He used to help run, and sometimes competed in the Fourth of July horse races at the fairgrounds. One year, having a girth break while leading his race, he managed to curl up and avoid getting trampled while the other horses jumped over him, coming out with minor scrapes and bruises. In April of 1960 he was a member of a group of 50 men that ran the Centennial Rerun of the Pony Express with his horse "Flare". They left St. Joseph Missouri and travelled to Salt Lake City Utah, staying as close to the original route as possible and covering it a mile at a time. During the 70s he was known for being in local parades with his horse "Flare" and "our udder horse", better known as Girly the milk cow that we would saddle and the kids would ride. The pair made it to several of the bicentennial parades in 1976.

Always tinkering and designing a better way to do things he had created a couple of inventions that were very useful on the farm. One was a gate fastener that we still use to this day. The other was a bale cart that he patented and sold to Hesston Equipment in 1976. It was advertised on TV by Hesston during the National Finals Rodeo that year.
For several years he hosted hayrides that were unique and often included ghost stories, spooking, cemetery scavenger hunts, bonfires, homemade doughnuts, hot chocolate, and the occasional lost shoe in the mud. Fall, meant putting on as many as 5 hayrides and were enjoyed by many of the kids in the area.

Anyone who knew him blew a quarter out of his hand to make it disappear, only to have it magically reappear from behind their ear. Often called "The Magic Man", he was a staple at school events for the kids and grandkids for decades. He lived his life always having fun and shared his life with not only his kids, but many of the nieces and nephews and friends of them. He loved to take road trips his entire life and experience the countryside often being sure to take a car full along for the ride and the experience. If he ever wanted your attention all he had to do was whistle and he loved to challenge people to hum and whistle at the same time.
One of his favorite traditions was going to the Iowa State Fair. Since WWII he had attended every year of the fair until 2015 when he was physically no longer able to go, missing only once in 1952 due to a ruptured appendix. Many of those years he camped at the fair with the family and he has passed this tradition on to the next generations of the family. Always being adventurous, and after many trips and lots of camping (either in a camper or out under the stars), he camped in a tent for the first time in 2000 at the age of 73 while taking a trip through Yellowstone National Park and Glacier National Park.


We thank you for the lifetime of fun, the laughter, the stories, and the experiences. You will be missed, but always in our hearts.
Previous Events
Visitation
Cummings Family Funeral Home
1406 Madison Avenue
Bedford, IA 50833
Family will be greeting friends from 5-7 PM.
Funeral Service
United Christian Presbyterian Church
Bedford, IA 50833
Interment with Military Honors
Fairview Cemetery
Bedford, IA 50833
Cemetery Details
Location
Fairview Cemetery
Bedford, IA 50833