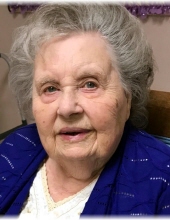 Obituary for Frances Maurine Gilmore
A private family memorial service for Frances Gilmore, 95, of Bedford, Iowa, will be held at a later date.

Frances Maurine (Miller, Hastings) Gilmore was born May 23, 1924 in Texarkana, Texas to Florance and Laura Fern (Hoffman) Miller. Her father was a mail carrier for the Union Pacific Railroad in Texas, which led them to Kansas City, Missouri. She grew up in the Kansas City and Raytown school districts with her sister Edith and brother Herman. She married Ralph E. Hastings in 1946 and lived in Independence, Missouri for 30 years. They had 4 children: Charlotte L. Moore; Dr. Kenneth W. Hastings, (Lynda Cauveren); Helen M. Gross, (husband Randy) and Wanda S. Brokaw, (husband Erik). She later married Lysle Gilmore of Hagerman, Idaho in 1980, whom she met on a church trip to Israel. She resided in Hagerman, Idaho until 2004 when they moved to The Groves in Independence, Missouri.

Frances's life was based around serving God through her family, The Community of Christ Church and community. She enjoyed playing in the Independence Symphony Orchestra as 1st cellist for 20 years then, 23 years with the Twin Falls, Idaho Symphony. Her hobbies included traveling, gardening, canning, fishing, elk and deer hunting. She was a dedicated director/leader for many girls and church programs. She played the organ and piano for church, weddings, and funerals and enjoyed wintering in Arizona with friends.

In 2015, Frances and Lysle moved back to Hagerman. After Lysle's death in January, 2018, Frances was moved to a Specialty Care Center Facility in Bedford, Iowa, close to her daughter, Charlotte. Even with her advanced Dementia, the Specialty Care Center staff kept her involved in many skillful activities and events. They remembered Frances as being funny and witty and above all else, thankful and appreciative of everything that everyone did for her.

She had seven Grandchildren: Matthew Moore, (wife Tracy); Benjamin Moore, (wife Pam); John L. Whipple III, RN, (wife Kristen); Dr. Laura M. (Whipple) Mosley, (husband Logan); James Leach, Timothy Leach, William Gross, Liz Zoeller, (husband Jamie) and Jason Couveren. Six Great Grandchildren- Cory Zoeller, Kaylynn Moore, Christopher Moore, Cord Moore, Maddox Whipple, and Charlee Whipple. Two step daughter's: Cathi Mince, and Marieta McAhren of Idaho. Several step grandchildren including Crystal Arnold of Idaho, Lorene Kelly, Leslie Lynch and Charity Young.

Preceding in Frances death was her husband, Lysle L. Gilmore; Mother and Father, Florance and Laura Fern Miller; brother Herman Miller, Idaho; Grandson James Leach, Independence; Ralph E. Hastings (known to many as Uncle Mickey).

Frances passed away peacefully on September 17, 2019 to be with the Lord. A special thanks to every team member of the Care Center and especially to the nurses and aides at the Facility for their compassion to exceptional care, and for going above and beyond to provide a loving environment during the last 18 months of Frances's life. She will be missed by her family, extended family and friends.