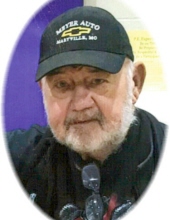 Obituary for John Dean Anderson
Wednesday, May 23, 2018, John Dean Anderson met His Savior face to face and was welcomed to his Eternal Home with joy and thanksgiving. The dialysis was over, no more tiredness, no more sleepless night, and no more pain. He is Home at last to abide in Gods care and love.

John was born on April 29th, 1947 and was the oldest child of Leon (Swede) and Wilma Damewood Anderson. He began his life on a farm in the Fairview vicinity where he attended the Fairview Church and the rural school until the 7th grade, when the family moved to Bedford in 1959. The only tears he shed in leaving the farm was when his dad's Farmall tractor was sold, which was purchased new after the war. He had grown up on that tractor with his dad.

From the time he could walk, his dad taught him how to hold a football and since, he never forgot the game that he and his dad enjoyed so much. He was a war baby and graduated from Bedford Community High School with the class of 1965, which he thought was the greatest class to graduate from Bedford, it also was the largest class, as well. To his father's delight, he lettered in football for multiple years and was recruited by several colleges for football.

He graduated from Northwest Missouri State Teachers College with a Physical Education Degree. His first teaching job was at Ogden with a quarter of a day of Driver's Education. Later, he became a full-time coach, teacher, and Drivers Ed instructor. He taught for several years at Ogden, where he then later resigned and went back to trucking. He made several lifelong friends from Ogden.

His trucking buddies left a lasting impact on his life and he had a special place for them in his heart, trucking was his second career. Many of his friends and family enjoyed going on the truck. One time while on the road, John, his mother, and niece Jennifer got stuck at a truck stop for a week. Life was always exciting when John managed anything because you never knew how it was going to end.

Off and on, as time went on with many ups and downs, John went back to school to get his masters and too the surprise of many, John finally got his masters. Thanks to Mr. Black and the school board at BCHS, John was given the opportunity to teach at his Alma Mater in 1991, which was one of the greatest joys of his life. He was so grateful to be a part of the Bedford School District, where he was given the position of Elementary Counselor. He was put wherever there was a need and those who know Mr. A, know he did things in his own way. Mr. A had a way of listening to every word that was said, then did what he wanted to do in the first place.

John had many friends from all walks of life. If he had a dollar, you had a dollar. If you had a problem, then John took the problem on with you. To have money was never very important to John, he shared it generously with those in need and those he loved.

John may have been the only teacher who had 2 retirement parties- a year apart. He then returned to Corning to teach for a while, but he did enjoy retirement. During retirement, he reconnected with classmates, shared many trips with friends, drove a Fed Ex truck, delivered new garbage trucks, and enjoyed watching as many sporting events as possible. John didn't have much time to keep the house clean or worry about the clothes he wore. His world was a mile ahead.

One of Johns greatest pleasures was watching sporting events, especially football. If you were at any game, it being elementary, high school, or college, you were bound to see John, most likely sitting on the opposing side so he didn't have to visit and miss seeing a play.

John loved his Lord and he loved his Church. He appreciated Pastor Andrew and Beth and held a special fondness for his parents. Many probably didn't know he was at church because he was the last one to arrive and the first one to leave. He thought of Beverly as a terrific teacher and a dear friend. John was truly blessed with several very special friends. He knew that and was very grateful for them standing with him, for him, and being available when he needed them. Cultivate your friendships and share your love.

John loved his family, even though they sometimes questioned it- but they always knew he did. He loved his sisters, Marcia and Nancy and their husbands Henry and Steve. He often wondered how they landed such great men. John thought of his nieces and nephew as his own. Tricia, Jennifer, Deborah, Robyn, and Connor held a special place in his heart. He boasted about their accomplishments like a proud grandfather figure.

When his nieces married, he couldn't believe good fortune struck again and he got 2 wonderful nephews in Colby and Brian. Then along came his great niece and 3 great nephews, Katelyn, Russell, Cauy, and Brady. He was proud of his niece carrying on his teaching tradition and his great nephews playing the game he loved. John never missed a game his nephews played in. John is so proud that the Anderson heritage is being carried on.

Dear ones, cherish your Lord, your family and friends. I'll give dad a hug from all of you. 'Til we meet again.
Previous Events
Visitation
Cummings Family Funeral Home
1406 Madison Avenue
Bedford, IA 50833
With family greeting friends from 5-7 PM.
Memorial Service
Cummings Family Funeral Home
1406 Madison Avenue
Bedford, IA 50833
Inurnment
Fairview Cemetery
Bedford, IA 50833
Cemetery Details
Location
Fairview Cemetery
Bedford, IA 50833
Memorial Contribution
Instead of flowers the family requests memorials be given in his name.
For a memorial/s to be decided later by the family.