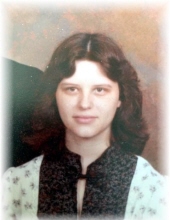 Obituary for Lora Rybolt
Celebration of Life Memorial Services for Lora Rybolt, age 60, of Bedford, who passed away June 7, 2019 at Bedford Nursing and Rehab Center will be held Friday, June 14, 2019 at the Hopkins Christian Church at 11 AM. Visitation will held at the Hopkins Christian Church Thursday, June 13, 2019 from 6-8 PM. In lieu of flowers memorials may be directed to the family for a memorial to be determined. Memories and condolences may be shared with the family at www.cummingsfamilyfuneralhome.com under Obituaries.

Lora Ann (Griffey) Rybolt was born April 21, 1959 to Drexel Leroy and Nancy (Jody) Josephine (Mooney) Griffey in Maryville, MO. She was the first born of three daughters. She was, what she called, a "military brat". Although she began school in Hopkins, MO, she and her family traveled many places throughout her fathers military career. Some of those included Coppers Cove, TX, Corpus Christie, TX and Germany. She graduated high school from Hopkins, MO in 1977.

She later married Mark Frederick Rybolt on January 21, 1978. Mark and Lora began their life in Bedford IA. During the years before they had children they spent time in Tucson AZ, and Pickering, MO. Their marriage brought four children; Amanda Michelle (1981) Jacob Lee (1982), Kevin Dean (1991), and Joanna Noelle (1993). Lora spent many years as a stay at home mom to her children. She and Mark , along with their children lived many places over the years. Lora and the children went where ever Marks work took them; Muskogee and Okay, OK, Corona and Riverside, CA, Burlington Junction, MO eventually making their permanent home back in Bedford IA in the early 2000's. Lora worked for Wal-Mart for several years, and NSK as a machine operator for 10 years, until she fell ill.

Lora was the grandmother of six. Being a grandmother brought her great joy. She bragged about all of them with friends and co-workers. They had very a special relationship together. She did everything she could to be present for anything they may have going on; school programs, softball, baseball, birthdays, and so on.

She enjoyed reading, rock & roll music, going to the movies with her kids, spending time outside at her home in the country, going for breakfast at a cafe with Mark on the weekends, and spending time with her grandchildren. She loved and was loved by her family.

Lora is survived by her husband Mark Rybolt (Bedford IA) , four children; Amanda Rybolt (Clarinda IA), Jacob Rybolt (Whitney, TX) Kevin Rybolt (Bedford, IA), Joanna Rybolt (Clarinda, IA). Six grandchildren; Bradley Everhart (Maryville, MO) Drexel Richardson, Lauren Richardson, Mark Rybolt, Ashlyn Rybolt, and Layla Parks. Her mother Nancy (Jody) Griffey ( Hopkins, MO), and sister Kathy Gladman (Hopkins, MO)

She is preceded in death by her father Drexel Griffey, and sister Joy Hansen.

May God grant comfort and strength to those who mourn Lora's passing.
Previous Events
Visitation
Hopkins Christian Church
101 S. 5th Street
Hopkins, MO 64461
Memorial Service
Hopkins Christian Church
101 S. 5th Street
Hopkins, MO 64461
Memorial Contribution
May be directed to the family for a memorial/s to be established.