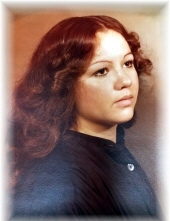 Obituary for Rhonda Hawn
Rhonda "Ronnie" Hawn was born July 24, 1961 in Maryville, Missouri to Merlyn Hawn and Gloria (Thebeau) Hawn. Her father was in the Navy and her childhood was spent traveling across many states. Eventually, her family settled in Bedford, Iowa where she graduated from Bedford High School in 1979. Following graduation she moved to Rockport, Missouri and worked with her sister at a meat packing plant for two years.

Rhonda then moved to Kansas City where she worked as a legal assistant at a law firm. During this time her "pride and joy" was born, Calyn Jo "Caly" Wilcoxson. Following Caly's birth, Rhonda moved to Clarinda, Iowa to be closer to her family. There Rhonda enjoyed gardening, canning and helping her dad on his farm. After her father passed away, Rhonda moved to the Red Oak, Iowa area until Caly graduated from High School. Rhonda lived in Council Bluffs, Iowa at the time of her death.

Rhonda enjoyed gardening, camping and cooking for everyone, especially during family gatherings and holidays. Rhonda deeply loved her family and enjoyed giving. Rhonda's love for her daughter Caly was the deepest and truest of loves. Even into Caly's thirty's Rhonda would call and wish her "Sweet Angel" goodnight. Rhonda was loved so very much by her daughter, mother, sisters, nieces, nephews, aunts, uncles and cousins.

Preceding Rhonda in death were her father, Merlyn Hawn; paternal grandparents, Orham and Helene Hawn; and maternal grandparents, Darlene Derry and Nickolas Thebeau.

Left to cherish Rhonda's memory are her daughter, Calyn Jo Wilcoxson (Tony Comstock); mother, Gloria Hawn; sisters, Robin Hawn, Ramona Schmidt (Joe) and Raquel Hawn; nieces and nephews, Nola Bond, Alexis Krzycki, Chance Coburn, Chloe Coburn, Sterling Bullington, Celeste Coburn, Beige Hawn, Krete Bullington, and Nikki Wilcoxson Stevens along with many aunts, uncles, cousins and friends.
Previous Events
Graveside Memorial Service
Fairview Cemetery
Bedford, IA 50833
Cemetery Details
Location
Fairview Cemetery
Bedford, IA 50833