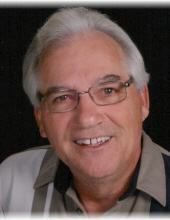 Obituary for Richard Gomez
Celebration of Life Mass for Richard E. Gomez, 70, will be held Thursday, May 17, at 2:00pm at Cummings Family Funeral Home, Bedford, IA. Celebration of Life will be held Friday, May 18, at 5:00 - 8:00pm All Saints Catholic Church, Stuart, IA. Rev. Fr. Eze Venantius Umunnakwe will be the celebrant. Rick passed away May 11, at Mosaic Life Care in St. Joseph, Missouri.

Richard E. "Rick" Gomez was born November 15, 1947 in Earlham, Iowa. He was born to Elias "Ike" and Marjorie Evelyn (Miller) Gomez. Rick was the fifth child of nineteen children. He attended Earlham schools. He enjoyed working on his parents farm and would often return home to help his father. His career was spent in various capacities of warehouse management.

He was married to Marian "Jean" Gittins on November 9, 1968, they would have celebrated their 50th wedding anniversary this November. They had three children: Patricia Gomez, Brian Gomez and Christopher, and wife Sam Gomez. They also have two grandchildren: Brooklyn and Cash. He enjoyed spending time with them camping, fishing, and enjoying the outdoors.

He and his family moved to the Kansas City area in the late 70's. Upon retirement they returned to Iowa three years ago. Rick enjoyed trail riding and camping, car shows, tractor shows and was an avid fan of NASCAR. He also enjoyed spending time with numerous family members at family get-togethers.

He is survived by his best friend and wife Jean, their children Tricia and Chris, his wife Sam and their two grandchildren. Fifteen brothers and sisters and in-laws along with many nieces, nephews and cousins. Rick was preceded in death by his son, Brian Gomez; his parents and father in law; brother Jim, sisters Mary and Janet.

He will be greatly missed by his many friends and loved ones, many whom he has mentored.
Previous Events
Mass of Christian Burial
Cummings Family Funeral Home
1406 Madison Avenue
Bedford, IA 50833
A Celebration of Life Mass will be held Thursday at 2 PM at the funeral home. A private family burial of ashes will be held at a later date in Stuart, Iowa.