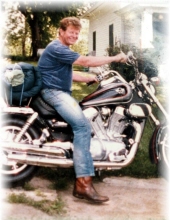 Obituary for Robert Carlson
Private family memorial services for Robert Carlson, age 82, of Bedford, Iowa, formerly of Kansas City, Missouri, will be held at a later date.

Robert Allan Carlson was born July 10, 1936, in Salem, Nebraska to Allen Carl Carlson and Ellen (Barnes) Carlson.

Robert grew up in the Salem area where as a teenager he worked on various farms. Robert excelled at football in high school which led to his recruitment by the United States Naval Academy to play football. Following his playing days at Navy Robert continued to serve in the Navy for another 3 years. Robert married Betty Lou McCellean in 1958, and to this union, a daughter Darcy was born.

Robert spent his entire working life as a truck driver for Budweiser where he had a delivery route in the Northtown area of Kansas City, Missouri. Through the years Robert enjoyed watching football, riding his motorcyle, fishing, visiting casinos, and watching westerns.

Left to cherish his memory include daughter, Darcy (Terry) Couch of Bedford, Iowa; grandchildren, Sunshine Genevicz, Robert Wade Carlson, Tyler (Katie) Couch; great-grandchildren Lily Genevicz, Alex Genevicz, Lauren Couch, Maddox Couch and sisters, Joanne Babbs of Colorado and Gretchen Cooper of Lincoln, Nebraska.


Preceding Robert in death were his parents. May God grant comfort and strength to those who mourn Robert's passing.