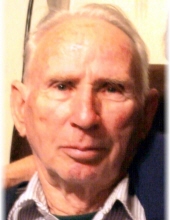 Obituary for Robert Wendell Nicholson
Robert (Bob) Wendell Nicholson, 91, passed away at his home surrounded by family on May 19, 2019. A private family memorial will be held at a later date.

Robert was born January 12, 1928 to Kirk and Pauline (Coleman) Nicholson in Royal, Iowa. At age 12 he moved with his family to Bedford, Iowa where he would live most of his life and graduate from Hopkins High School in 1947.

Robert married the love of his life, Lilly Joan Ginn on February 26, 1950. Together they had five children, Terry, Allen, Debbra, Randy and Jeffry. Robert was known for his ornery personality and sense of humor. He was a kind, simple man that loved life. Robert enjoyed playing cards, looking for rocks or arrowheads, visiting with friends and family under the shade tree, riding his bicycle and taking his children and grandchildren on countless vacations.

Robert was known to say he "loved farming, but hated work." Likely why he retired from the family farm at age 50 when he and his wife Joan began going "South" for the winters. Something they both looked forward to each year.

Robert was preceded in death by his parents, sons, Terry, Allen and Randy, grandson, Jack Neve, siblings, Hobert and Roger Nicholson and Rhoda Huntsman. Robert is survived by his loving wife of 69 years Joan of Bedford, Iowa, daughter, Debbra (Steve) Neve of Creston, Iowa, Jeffry (Julie) Nicholson of Hopkins, Missouri, 13 grand children, 20 great-grandchildren, brother Rick (Linda) Nicholson of Corning, Iowa along with several nieces, nephews and friends.