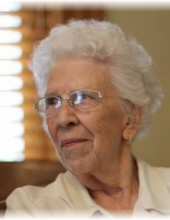 Obituary for Wilma Kathleen Spencer
Celebration of Life Funeral Service for, Wilma Kathleen Spencer, age 94 of Bedford Iowa passed peacefully of natural causes at the Bedford Specialty Care at 3:20 AM, August 24, 2018, will be held Monday, August 27, 2018, at 11 AM, at the Cummings Family Funeral Home. Visitation will be held from 10 AM to 11 AM Monday morning. Memorials may be directed to the Bedford United Christian Presbyterian Church. Memories and condolences may be shared with the family at www.cummingsfamilyfuneralhome.com under Obituaries.

Wilma was born September 2nd, 1923, to Mattie (Stewart) and James Lee on a farm west of Bedford. They soon moved southwest of town where she grew up an only child, a tomboy who rode her first rag doll like a horse with the arms as reins. She loved helping her father in the field and her mother in the garden but reading and riding her horse, Dandy, were moments she recounted the rest of her life. Bundled onto the saddle at age 5, off they would trot, rain, sun or snow, 1 ½ miles to Patch, a one room country school where she spent the first 8 years of her education. As she grew, Dandy solidified her self-esteem (beating all the boys in a horse race) and her lifelong sense of humor, having playful conversations with him after being bucked off. She rode him to high school, staying with her grandparents and exchanging waves and whistles with the same trainman every day at 7:00 AM. In a journal written long after these events she emphasizes the admiration she felt for her country teachers, "readers, musicians, janitors, recreationalists and counselors" rolled into a disciplinarian sometimes only 10 years older than his/her students and often physically smaller.

In high school, despite being intimidated as a country girl, she excelled and by senior year was dating a classmate, George Spencer, who she always sat beside during the Sunday church service, exchanging high school gossip, but whom earlier she had wanted to "poke in the nose" for kicking her pencil down a classroom aisle. After high school George joined the Navy, they dated during WW II and were married on August 8, 1943.

Together they farmed a small place south of Bedford where Wilma gave birth to a son, Dennis, on April 1,1945 and then moved ½ mile from George's parents,
Mildred (Keith) and Clark Spencer. Here they lived, loved, farmed and gardened. A daughter, Janice, was born in the home May 13, 1950. The surrounding farm community shared in harvesting, card games and multiple chili /oyster soup suppers. Along with country life she instilled in her two children the love of music, reading, dance and travel. At her upright piano she would recount her nights with her Grandmother Lee rolling up the farmhouse rug dancing to Golden Slippers and completing the night with Rock of Ages.

Determined that her children would have money for the college education that neither she or George enjoyed, and after 8 years on the farm she was invited to work at the Wholesale Grocery, at holiday times in Western Auto and finally several years in the Bedford Style Shop.
Around this time and many years together, George presented her with a new ring to renew their wedding vows and reflected on a relative who had said the marriage would never last because they were both spoiled only children. How wrong she was.

These were years of spirited indomitable energy on the farm, in the town, raising children, then grandchildren and simultaneously supporting and contributing to: The Bedford Historical Museum, Lioness, JT Club, Forever Friends, UCPC Church Women, and the Quilting Group which met in United Presbyterian Christian Church of which she was a lifelong member. Her artistic flair went beyond quilting. She shared a love for ceramics with her mother-in-law, Mildred, and then for several years turned out beautiful paintings now hanging in the homes of her children and grandchildren.

After George passed she formed a tight bond with a group of wonderful women who shared the loss of a husband and they have laughed and cried and taken care of each other and in the last few years especially of Wilma.

There is no stronger bond, however, than Wilma's love and attachment to her family and they to her. Babies moved into her arms and family passed from her; each coming and going embraced as a part of who she was. She leaves behind her son Dennis Spencer(grandchildren -Christopher Spencer, Kate Spencer Lachance(Michael), Andrea Spencer Kimchi (Eyal), Joanna Spencer Segal(Yaniv)) and his wife Mary Louise; daughter Janice Wilson and her husband Jim (grandchildren-Jina Jackson(Dennis), Jackie Spainhower (Miles), Michelle Wilson(granddaughter in law)); great grandchildren- Devan Jackson, Evan Jeorge Pierson, Danyelle Jackson, Emsley Spainhower, Maizey Lang, Atticus James Wilson, Rami Segal, Shoshan Segal, Lev Kimchi, and Avi Kimchi.

She is preceded in death by her father-James Lee and mother, Mattie (Stewart) Lee, her husband of 49 years, George Spencer, her great grandson, Derek Jackson, daughter in laws, Susan Spencer, Helen Spencer, and her grandson, James Wilson.
Previous Events
Visitation
Cummings Family Funeral Home
1406 Madison Avenue
Bedford, IA 50833
Funeral Service
Cummings Family Funeral Home
1406 Madison Avenue
Bedford, IA 50833
Interment
Fairview Cemetery
Bedford, IA 50833