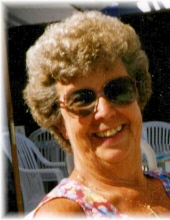 Obituary for Wilma Newton
Wilma Mae was born to Hamilton Weldin and Nellie (Fife) Brown on September 2, 1930 in Pittsburgh, Pennsylvania. She was the oldest of 6 children born to Ham and Nellie: Dick, Don, Dorothy, Dennis (Dorothy's twin who died at birth) and Bob – Bob came along a lot later!

Hamilton was a teacher, but also a Colonel in the United States Army. Before WWII he taught and returned to teaching after the War ended. The family moved some as he served.

Until Wilma was two they lived upstairs in her grandparent's home (Hamilton & Ella Brown). They moved to McKees Rocks in PA until 3rd grade and then moved to Columbus, Georgia where her father taught rifle use for the infantry. There were times during his service that Nellie would move the family back to Pennsylvania to the Fife family farm so she would have support raising her growing family, this was especially important during the War.

Wilma was baptized at Bethel Presbyterian Church in Pennsylvania. As a child she never remembered a time she didn't attend church, she spent every weekend until 3rd grade with her grandparents on the Brown side and that's what they did on Sunday's. Nellie's side of the family were long time church goers as well, founding the Bethel Church.

One of Wilma's favorite things to do as a young girl was to play paper dolls with her cousin Ginny. They would set up under the tables and play house for hours. She remembered the paper clothes for the dolls were clothes that resembled the ones that the movie stars of that era wore.

The farm was the center of family life for Wilma growing up. Each weekend they spent time at both places and during the summer they spent the whole summer working – canning and cooking, and when harvest came Wilma remembered pitting so many cherries for cherry pies for the farm hands that her hands were sore.

When she was a teenager after Hamilton returned from the War they moved permanently to Pomona California. She attended and graduated from Pomona High School in 1947. She attended Mt. San Antonio College for a short time and that is where she met Pat. Henry Edward "Patrick" Ross. He was handsome and sweet, they fell in love, married on June 26, 1948 and also made their home in Pomona, California. They were blessed with four children: Paul (1948), Larry (1951), Dan (1958) and Nancy(1963). (Wilma said they kept trying to have a girl and didn't stop having children until they did!)

Wilma was a stay at home mom in the days where neighbors shared meals and took vacations together and watched each other's children. The Sarocka's (Joe and Vincie) were the next door neighbors that were that extended family. They had 3 children: Joey, Jim and Janet (the same ages as their three oldest). Wilma always said they were lucky after two boys they got their girl and stopped! It was not uncommon for the two families to be together and all the kids felt like they had two sets of parents and the parents felt like they had 7 children!

Pat and Wilma divorced in 1966 and Wilma was left to raise 4 children on her own. For the first time in her life she entered the work force. Walking in her father's footsteps she started working in the Pomona Unified School District. She started as an Aide, worked in the office doing administrative work, and when she retired (early because they were going to make her use a computer!) she was the Registrar for Garey High School. In a school with almost 1,800 students she recorded grades by hand, GPA's and kept track of all of the class schedules and requirements for graduation. Some of her best friends for life came from her time working for PUSD.

Wilma married Marvin Newton in 1980 and they lived in Walnut, California. Once she retired in 1987 they did some traveling – Hawaii, Georgia, Florida, Pennsylvania to name a few.

Wilma and Marvin divorced in 1989 and Wilma moved to Hemet, California. She was very active in the First Presbyterian Church, she was an elder and served as Presbyterian Women Moderator. She was able to go with the church and her favorite pastor Don Owens – (well favorite next to her daughter, brother and uncle!) to go on a few tours to Greece and Germany. She was also a member of PEO in Hemet. Some trips with her Baptist friends from back in the Pomona days, were some of her favorite times. One of the last trips she was able to do was a trip to Scotland and Ireland with Nancy.

She enjoyed her condo and also her trailer at Oceanside. There were three things that made her the happiest. One was when she was sitting out on the patio in Oceanside reading a book. The second was working on cross stitch that she would spend hours on and then gift to someone she cared about. And the third was anything having to do with her children. She loved her children! She would do anything for her kids and no one was good enough to marry any of them! Sometimes the in-laws thought she just kind of tolerated them to be able to spend time with her kids.

She enjoyed time with family and she was the family historian. If you wanted to know a date or an event she had a way to recall it related to someone's birthday or world event. She was supportive and loyal to a fault. She was stubborn, (she would have said strong willed) man was she stubborn! She was a fighter and taught her children to fight, to be independent, to work hard and to be decent people. She could have chosen to be a victim being left to raise her children on her own, but she chose to be a mother lion, protecting, encouraging, pushing toward the door so they would become the adults she expected them to be.

She was proud of her children, proud of being the daughter of a Colonel who served with and returned to service because he was asked by Dwight Eisenhower himself, and proud to be a life-long Presbyterian.

In 2010, Wilma moved to Avoca, Iowa to be near her daughter. (Wilma would say she had been made to move to Iowa and would bring it up every time she told the story!) She lived with Dennis and Nancy for 5 months to recover from some health issues and then she moved to Peace Haven in Walnut, Iowa. It was at Peace Haven where signs of dementia started to show itself, Wilma needed a little more assistance so she moved to the Avoca Assisted Living Facility.

In the fall of 2016 she moved to Hansen House in Council Bluffs, Iowa and it is there that she passed into the great cloud of witnesses on Monday, January 14, 2019. She was supported greatly by the care, support and love of all the staff of Hansen House and Every Step Hospice.

Wilma was preceded in death by her parents Hamilton and Nellie; sons: Paul and Larry; and brother Dick. She is left to be remembered by her son: Dan and wife Patty of Glendale, California; daughter Nancy and husband Dennis of Walnut, Iowa;Five grandchildren; Jennifer Ross of Chicago, Illinois, Jay Ross and wife Susan of Sacramento, California, Christa Negrete and husband Glenn of Chandler, Arizona , Tim Ross of Glendale, California, Matthew Ross of Glendale, California, five great grandchildren; Kiley, Meghan and Jackson Ross of Sacramento, CA, Alex and Bella Negrete of Chandler, Arizona, Three step-grandchildren; Brandon, Nathan and Kelsey and three step great grandchildren: Nolan, Audrey and Maren; Daughter-in-law – Julie Ross; Brothers: Don Brown and wife Margy of Pensacola, Florida and Bob Brown of Upland, California; Sister: Dorothy Lewis of Tuscon, Arizona, nephews, nieces and friends.

Wilma's feisty spirit, generous life and witty humor will be missed and so will that look – you know the one over her glasses? We will miss that too! Love you mom!

Memorials may be directed to The Alzheimer's Association.
Previous Events
Visitation
Cummings Family Funeral Home
1406 Madison Avenue
Bedford, IA 50833
Funeral Service
Cummings Family Funeral Home
1406 Madison Avenue
Bedford, IA 50833
Interment
Fairview Cemetery
Bedford, IA 50833
Cemetery Details
Location
Fairview Cemetery
Bedford, IA 50833
Memorial Contribution
May be directed to the family for a memorial/s to be established.