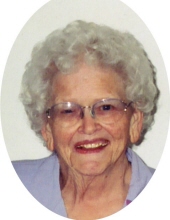 Obituary for Dorothy Wetzel
Funeral Services for Dorothy Wetzel, age 93 of Gravity, Iowa, who passed away July 21, 2018, will be held Tuesday, July 24, 2018, at 11 AM at the Cummings Family Funeral Home in Bedford. Visitation will be Tuesday morning from 9:30 AM until service time at 11 AM. Memorials may be directed to the Gravity Fire Department. Cummings Family Funeral Home was entrusted with the arrangements for Mrs. Wetzel. Memories and condolences may be shared with the family at cummingsfamilyfuneralhome.com under Obituaries.

Dorothy Ellen (Hays) Wetzel was born April 30, 1925 on a farm south of Quincy in Adams County, Iowa, the daughter of Ray Arvine Hays and Ina Lee (Pace) Hays. She was the middle child, with brother Floyd being 13 years older and her sister Alice being 3 years younger. Dorothy was a bit of a tomboy, loving to be outside with her dad helping on the farm. Dorothy would go out in their pasture and get the cows for milking, occasionally finding a dime that her Dad had dropped for her to find as incentive, which always made her happy! In the summer Dorothy would gather the cows barefoot and would occasionally encounter a patch of thistles. Her dad would say, "just run fast through them and it won't hurt." Needless to say it still did! She and Alice always had fun playing house under their lilac bushes. Dorothy had many happy memories of her childhood that she loved to share with others.

Dorothy attended school through 8th grade at Quincy and then attended high school in Corning through the 11th grade. One day she saw an ad in the paper of a couple needing help taking care of their two little granddaughters. Dorothy loved children so she applied and got the job. It was there that she met their farm hand, Cleo Harlan Wetzel, which she soon decided was the "love of her life!"

Dorothy and Cleo were united in marriage October 10, 1944 at the Bedford United Methodist Church Parsonage and went on to celebrate 64 years together! To this loving union four children were born, Ronald Reldon, Robert Charles, Dwight David and finally a daughter Marcia Ellen.

Dorothy loved living on the farm, taking care of her family, putting in a large garden, cooking, canning, baking and sewing. She taught Sunday School and Bible School at the Fairview Church and helped with community gatherings for church, school, 4-H and the WW Club in the Fairview-Holt area. Dorothy decided to take a cake decorating class and made many birthday, wedding and anniversary cakes for family and friends. She baked and decorated all of her children's wedding cakes with Marcia's wedding cake being the last one she decided to do.

In 1968 the couple moved to the Gravity area where they began attending the Gravity Christian Church and on August 20, 1970, Dorothy was baptized into Christ. Dorothy and Cleo attended there until 2006, helping in many different capacities of the church. Dorothy wrote the Gravity New for the Bedford Times Press and two other area papers for over 43 years before deciding to retire! Through the years Dorothy also babysat many children and grandchildren. She loved her 12 grandchildren and enjoyed attending their activities. Later after her great-grandchildren were born Dorothy enjoyed having them come visit her. Dorothy's family was truly the "joy of her life!"

Left to cherish her memory are two sons; Robert Wetzel of Corning and Dwight Wetzel and wife Glenda of Bedford; her daughter Marcia Nickell and husband Galen of Gravity; her sister Alice Ruttan of Kansas City, Kansas, twelve grandchildren and their spouses, 31 great-grandchildren, 3 step great-grandchildren and many other relatives and friends.

Preceding Dorothy in death are her parents, Ray and Ina Hays; in-laws Verne and Hazel Wetzel; her husband Cleo in 2008; her son Ronald in 2008; her brother Floyd and wife Cora; brother-in-law Jim Ruttan; brother-in-law Roy Wetzel and wife Pearl and daughter-in-law Loretta Wetzel.

Dorothy was a devoted wife, mother, grandmother and great-grandmother. Her love will be missed by her family and friends.
Previous Events
Visitation
Cummings Family Funeral Home
1406 Madison Avenue
Bedford, IA 50833
Funeral Service
Cummings Family Funeral Home
1406 Madison Avenue
Bedford, IA 50833
Interment
Washington Cemetery
Gravity, IA